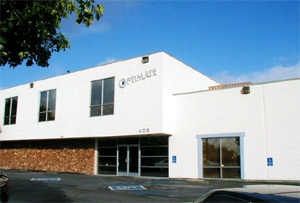 Founded in Los Angeles in 1994 with the mission of providing the Europe and the Americas with the finest value eyewear available. Optimate's corporate philosophy focuses on delivering the ultimate in quality, service and competitive pricing.
With a support staff of marketing, inventory control, accounting and distribution personnel, the company offers complete services from start to finish and is dedicated to putting the customer's needs first.
Optimate's unique Factory Direct capabilities make it possible to pass on great value. With nearly 20 years experience, its parent company, Ginko Optical Industrial Co., employs more than 2,500 full-time workers in Taiwan and China and produces more than 10 million ophthalmic frames annually. Equipped with the most advanced machinery and cutting-edge technology, this state-of-the-art production facility maintains stringent quality control at every step of the manufacturing process. Optimate is so certain of its product's superior quality we offer an industry leading guarantee against manufacturer defects for all purchases.
Optimate's signature eyewear collections, Amadeus and Baron, feature outstanding design, materials, components and construction to give your patients outstanding value and style.
Optimate - high-end materials, premium components, stringent manufacturing standards, combined with on-trend styles and colors with factory direct pricing bring outstanding value to your practice and patient's!